A day in La Gomera

La Gomera is hospitality, dreamy landscapes, a gastronomy that conquers the senses and corners full of tradition. The neighbouring island is one of the most unknown in the Archipelago and, however, it's the home of multitude spaces and plans worth knowing. In just 370 kilometers of surface we can find as many wonders as an unusual National Park, a language recognized by UNESCO and a whole universe of anecdotes and places of interest that remind us of Christopher Columbus' passage through the island.
Although its possibilities are vast, La Gomera is a perfect destination for a day trip. The Reception Team at Hotel Suite Villa María offers many possibilities, with organised visits on Mondays, Tuesdays, Wednesdays, Thursdays and Saturdays, which include ferry transfer to and from Tenerife and a tour of the island's best charms.
Join us on this adventure full of Laurisilva, history, La Gomera's whistling tradition and, of course, their traditional dish, almogrote. All this is waiting for you during your visit to La Gomera!
Video: Promotur
Garajonay: the fort of Laurisilva par excellence
In our tour directed by the island of La Gomera we cannot leave aside the National Park of Garajonay. Once we arrive by ferry from Tenerife, we will first border the cedar forest of the island, arriving at this impressive prehistoric ecosystem, recognized by UNESCO as a World Heritage Site.
In the popular Canarian imaginary, it is said that it owes its name to the combination of the two aboriginal names Gara and Jonay. The legend says that these two young lovers, coming from two opposing families, ended up committing suicide for love in the highest place of this park (Alto de Garajonay), in the purest style of Romeo and Juliet.
Garajonay is the emblem par excellence of the island of La Gomera and, as we pass through this forest, we will see places like Roque de Agando, La Laguna Grande, Mirador de Vallehermoso, Hermigua and Los Chejelipes. We will also make a stop at the Mirador de Abrante, where we will have the opportunity to witness a sample of La Gomera's whistling, a peculiar autochthonous language that has helped the locals to communicate for centuries between mountains and slopes.
New World's Depart
Approximately one month is the time that Christopher Columbus stayed on the island of La Gomera before leaving for the Indies – or America, as it would later be known. His three ships arrived into San Sebastian, coming from Huelva, a city that would become the last provisioning before the great Atlantic adventure.
The influence of this episode of history can be felt in every corner of the capital, from the so-called Casa de Colón, the well of the Casa de la Aguada -where Columbus is supposed to have taken the water he brought to the new continent- or the Count's Tower (Torre del Conde), witness to the supposed encounter between the conqueror and the Lady of the island, Beatriz de Bobadilla. Whatever happened, the importance of this stopover in the journey is so important that, since then, La Gomera has been called The Columbus Island.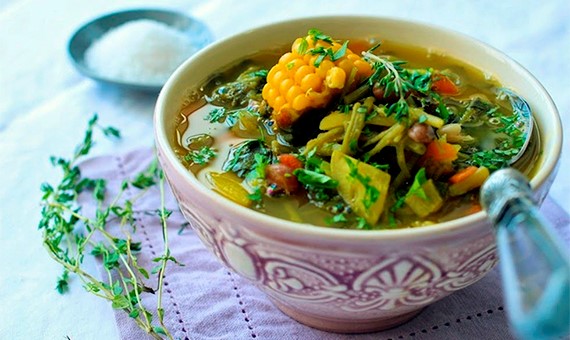 Own taste and personality
We insist… La Gomera is, above all, tradition. If you are still not sure, you need to give the opportunity to its delicious watercress stew (potaje de berros). This stew, full of surprising flavours and textures, joins the best of its local agriculture and combines perfectly with a touch of Canarian gofio.
La Gomera's gastronomy has very marked flavors and a personality of its own. Even more so, if you're a cheese lover, you're lucky. We recommend that you give almogrote -a spread made with cured cheese, garlic and paprika- a try. We're sure you'll become addicted to this delicacy for life.
You can't go back to Tenerife without buying some of the local sweets, such as rosquetes de manteca, tortas, Morones or biscuits; or the delicious Miel de Palma. This syrup, made from the sap of the boiled Canary Island palm tree, is the king of La Gomera's desserts and combines perfectly, not only with the traditional sweets of the island, but also with fresh cheeses and junkets. Nothing like taking advantage of this daytime adventure around the island to return to Hotel Suite Villa María with its best products in the suitcase!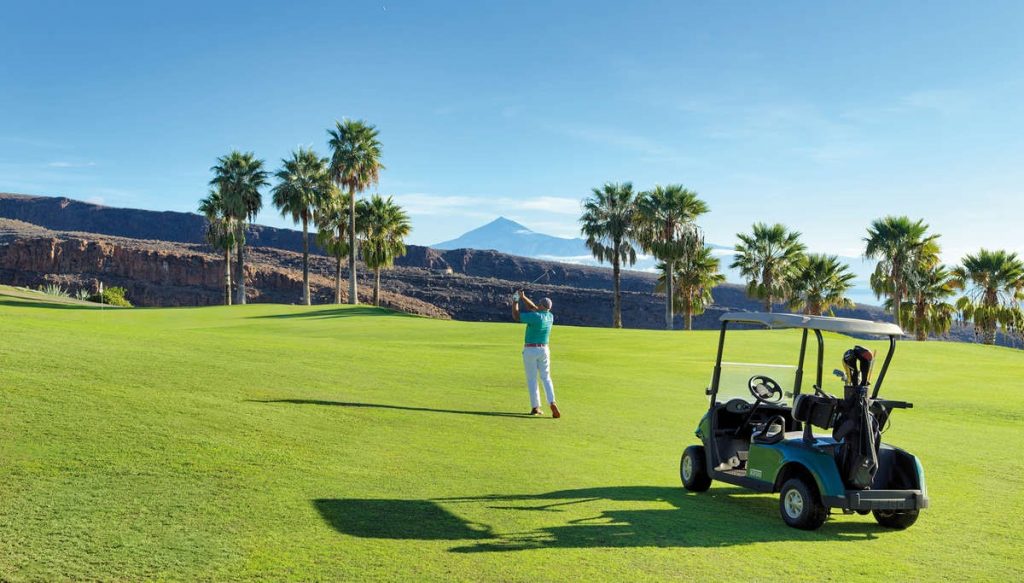 Golf and privileged views, in Jardín Tecina
Golf tourism also has its place on the neighbouring island. Would you like to practice a few strokes with these privileged views of Teide Mountain in the far distance? Our hotel has an exclusive agreement with Tecina Golf, an exclusive 18-hole course that can be a real challenge for golf enthusiasts.
In just 3-4 hours you will have completed the round of golf, which offers fabulous views of the Atlantic Ocean. Do not miss the opportunity to see the best golf course in La Gomera and make your reservation directly with our Reception Team.
« Crafts from Tenerife that are worth investing in
Fashion in Tenerife: an industry that has a lot to tell »