Enjoy the best events on our Chill out Terrace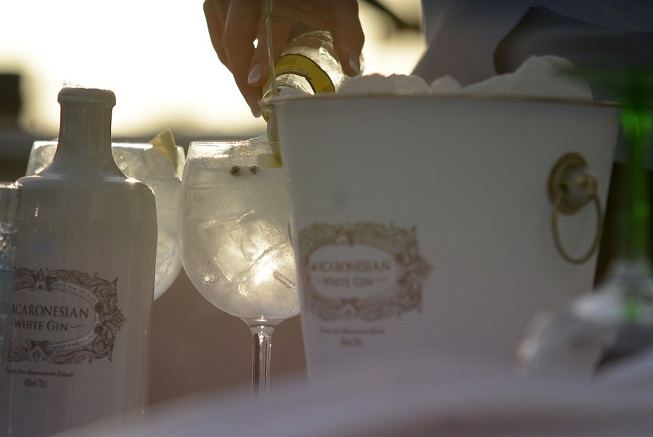 This summer, you can't miss the unparalleled opportunity to attend the exclusive events we have designed for you. We are prepared to surprise you and fill your holidays with rhythm and flavours so you can enjoy a unique environment through all your sense. Don't hesitate, give a tribute to your palate, smell, sight, hearing and touch. Accompanying us in an unforgettable first-class evening.
We promise to conquer you with different flavours this summer. In exchange, we only want one thing from you, allow yourself to be surprised by our innovative proposals created by our talented kitchen team. Through different themes, cultures and countries we will bring you new and refreshing flavours, dare to try them?
Our first stop
The mix of flavours that many consider the best cosmopolitan delicacy of all times, sushi, appears in a marriage with the fashionable combined alcoholic drink par excellence, gin & tonic. As scenario the irresistible views of our chill out terrace at the Hotel Suite Villa María.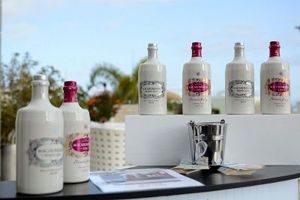 We would like to introduce a very fresh drink produced in the Canary Islands, the Macaronesian Gin. It is characterized by its smooth flavour as opposed to the known dry gins, thanks to the pure water originating from our volcanic galleries that is used during its elaboration. Its mild flavour is really pleasant to the palate since the botanical nuances predominate without an excessive alcoholic sensation.
We would like you to keep one word in mind: juniper. After all, gin is a Dutch drink as a result of mixing distillation of alcohol with berries of this tree thanks to its aroma. A curiosity, juniper in Dutch is "genever".
Why with sushi?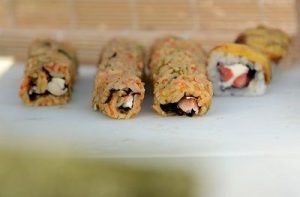 We thought that by mixing one of the best drinks with Japanese cuisine, it could only be a good idea, specifically, by mixing this gin with the bitter taste of the tonic, the combination enhances a flavour that perfectly matches the taste of the fish. Likewise, we wouldn't be surprised if you already noticed the strawberry gin that is also produced from the same house – Macaronesian. As expected, the fruity Japanese makis together with the irresistible combination of citrus flavours enhances the gin and sushi.
Undoubtedly, this combination of drink and food respects the contrast of flavours of each element, creating a sensation of flavours in your palate that we are sure will surprise you.
Allow us to delight you through these selected events that we have especially organized throughout the summer. You only need to be attentive to our social networks and soon we will reveal our next event. Last but not least, we would like to remind you that you are also invited to these events even if you are not staying with us. Our staff is ready! How about you?
Categories: events, restaurant, services
« The importance of accessibility at Hotel Suite Villa María
Shopping in Costa Adeje »