The best parks and gardens of Tenerife

Tenerife is an island full of places to discover. Practically all the municipalities have some outstanding green area and a great attraction when it comes to challenging the asphalt. Some of them are capable of transforming and converting an absolutely urban landscape into environments of great natural beauty. Walking among the vegetation, while we mix between orchids, dragos and palms and stop to find out more about the hidden history of the following sculpture, supposes an enriching experience for anyone. In this post, we'll take a tour of the most attractive parks and gardens – come along with us!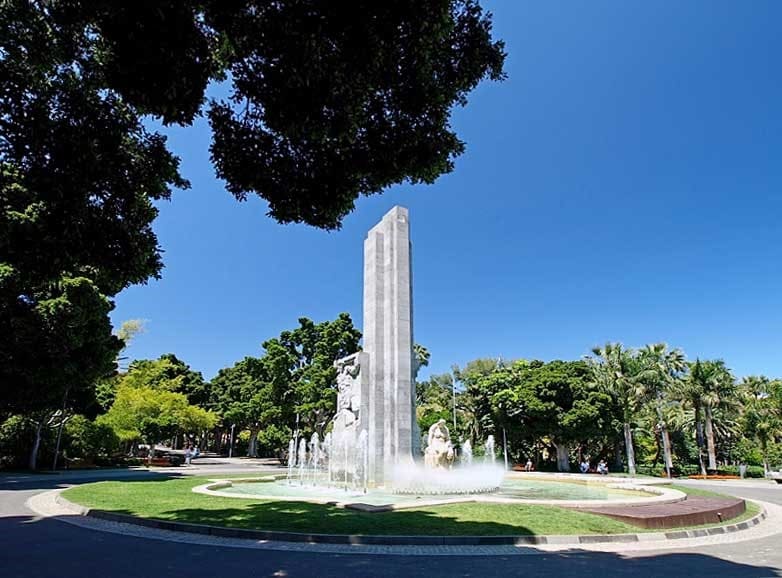 GARCIA SANABRIA PARK
This is one of the most emblematic parks in the city of Santa Cruz de Tenerife. It is located in the heart of the capital, with an area of 67,230 square meters, has sculptures of great artistic value, busts of illustrious characters from the history of the city and a large collection of trees and tropical plants of different origins. In the centre of the park, where all the paths meet, stands the Monument to García Sanabria (1938), an expressionist work by the sculptor Francisco Borges Salas. In one of its entrances, an essential stop at the Flower Clock. Manufactured in Switzerland by the Favag house and donated by the Consul of Denmark, P. Larsen, in 1958, it is flanked by two steps and behind it is the central fountain. It is characterized by being permanently decorated with fresh flowers. Without a doubt, an essential visit.
Visiting hours: Permanent. All year round.
Price rate: Free.
How to get there: Location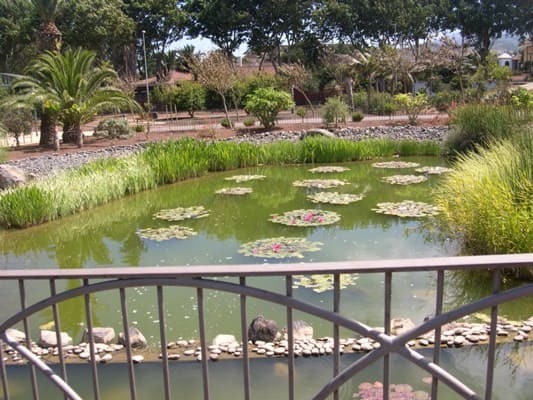 LA VEGA PARK
We moved to the old and first capital of Tenerife, San Cristóbal de La Laguna. 'Parque de la Vega' is one of the most famous in the city. With 22,000 square meters has a water garden with more than 80 species of plants and water lilies. Crossing one of its numerous bridges you will discover a lake full of fish and turtles. Many laguneros come, especially on weekends, to enjoy a pleasant walk among trees, exotic plants and playgrounds for children and sports. To complete your visit to this area of La Laguna, it is worth knowing the Camino Largo. It is located next to another famous park in the city (Parque de la Constitución) where you can enjoy a pleasant walk in the shade of its Canary Island palm trees.
Visiting hours: Permanent. All year round.
Price rate: Free.
How to get there: Location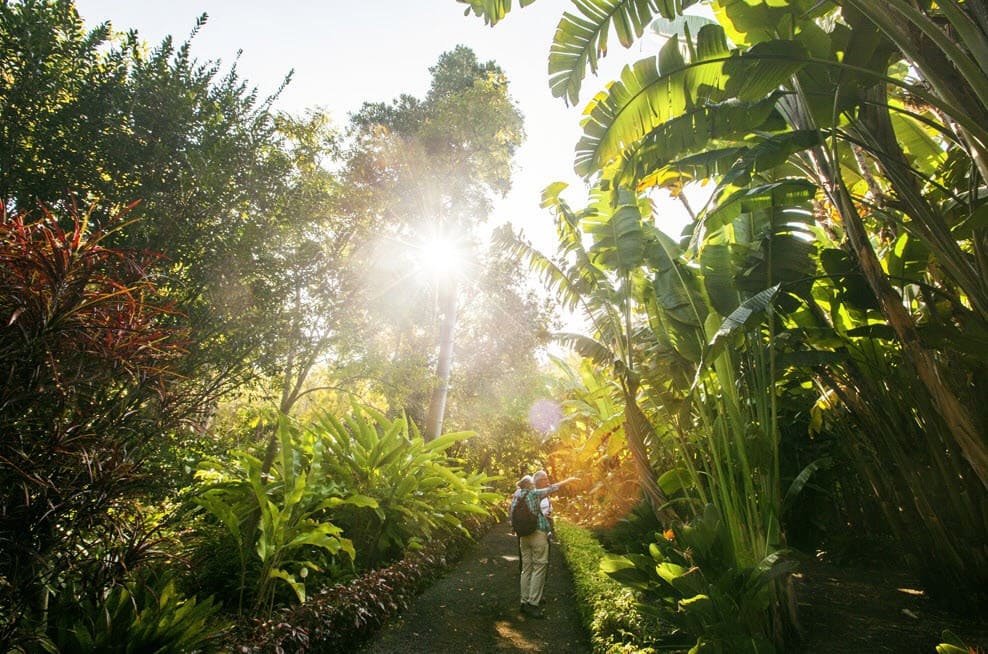 BOTANICAL GARDEN
In the north one finds the largest concentration of parks and gardens in Tenerife. When we turn off towards Puerto de la Cruz we find the Botanical Garden. A natural jewel with about 2500 species from all over the world. Also called acclimatization garden of La Orotava, originates in 1788 by order of King Carlos III to acclimatize and cultivate tropical species within the Spanish territory. With 20,000 square meters houses collections of tropical and subtropical plants, among which are different varieties of palms Bromeliaceae, Aracee and Moraceae. There are trees of great beauty and interest, both for their size, age, rarity or the origin of remote places. Its entrance is not free, because it is a scientific institution expert in Canary Islands flora and it exchanges seeds of plants at an international level, among other projects.
Visiting hours: Daily from 9:00h. – – 18:00h.
Price rate: 3,00 €.
How to get there: Location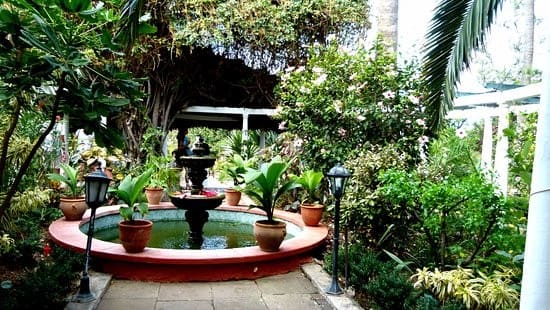 ORCHID GARDEN SITIO LITRE
Without leaving Puerto de la Cruz we can contemplate the oldest garden of Tenerife and an example of the passage of the British through Tenerife. It's a palace built in 1730 by Archibald Little, an English merchant, whose surname was varied over the years by the locals in the form of Litre. He has witnessed the passage of famous personalities from different fields, such as the famous German botanist, explorer and discoverer Alexander von Humboldt. Also Agatha Christie, who wrote here, during her stay, the novel "The Mysterious Mr. Quin".
Visiting hours:
In summer (from 1 May to 31 October), we are open from 9:30 a.m. to 6:00 p.m.
In winter (from 1nov to 30 April), we are open from 9:30 to 17:00hrs.
Price rate: 4,50 €.
How to get there: Location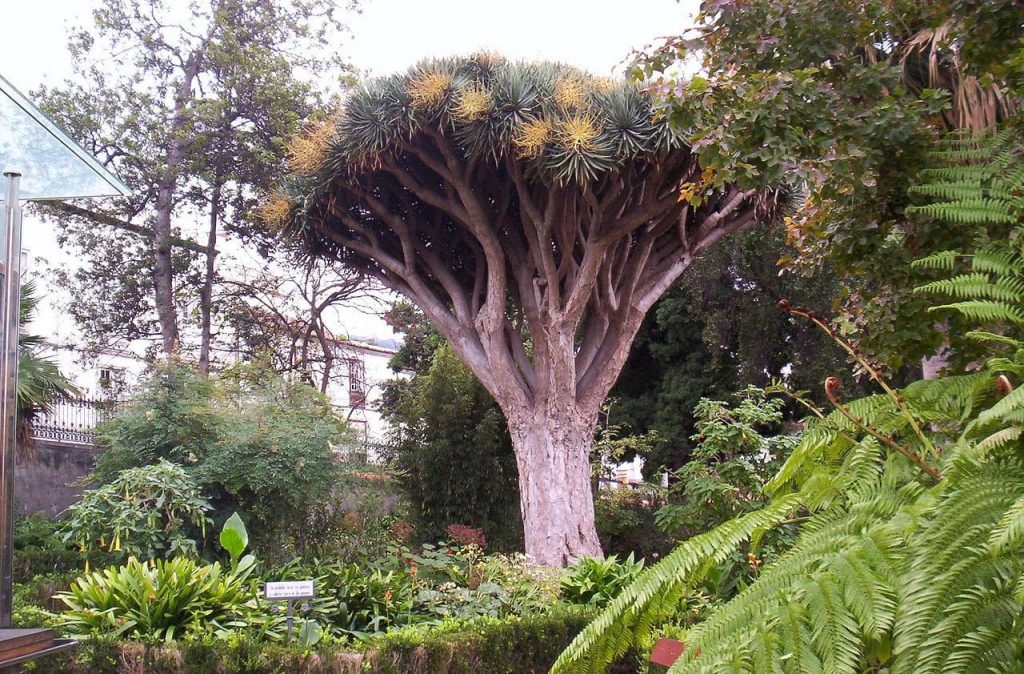 HIJUELA DEL BOTÁNICO
Without leaving Puerto de la Cruz we go to La Orotava to visit one of the most romantic gardens of Tenerife. Hijuela del Botánico was built in 1788 as a complementary centre to the Botanical Garden and was declared an Asset of Cultural Interest in 2008. With the passing of the years nothing has to envy his older brother. In the heart of the historic centre of La Villa de La Orotava we find 4,000 square metres of pure romanticism made into a garden. Don't miss the Indian chestnut tree, the fire tree, the sapote, the Australian conifers and the different specimens of Drago. Don't forget your camera!
Visiting hours: 09:00 to 14:00. All year round.
Price rate: Free.
How to get there: Location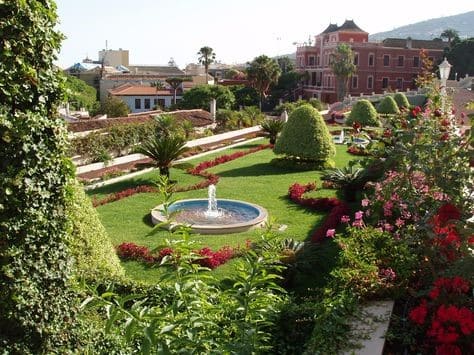 VICTORIA GARDENS
The fact that La Orotava is considered one of the most beautiful municipalities on the island is no coincidence. Also in its historic center we find a unique garden in the Canary Islands. It was built by the French artist Adolph Coquet in the nineteenth century giving them a unique and special style. You will be surprised by the order and precision of its entire structure. It is built in a staggered manner, with a multitude of fountains and flowers that contrast pleasantly with each other in an exercise of exceptional perfection. Don't forget to look up when you reach the top of the garden, the views of the old town are unique.
Visiting hours: Permanent. All year round.
Price rate: Free.
How to get there: Location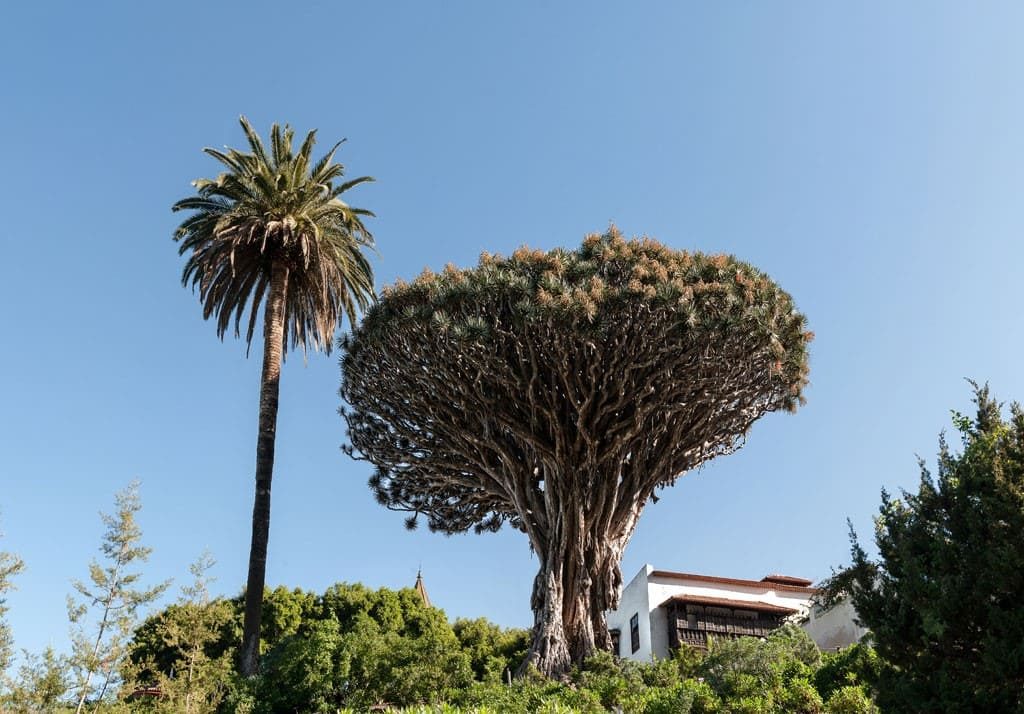 DRAGO PARK
On the lower part of the island, as the northwest of Tenerife is known, are located some of the most exceptional places in Tenerife. El Drago and everything that surrounds it is one of those places. Next to the Parish Church of San Marcos in Icod de Los Vinos is the Drago Park. The garden, which has an area of 30,000 square meters was designed between 1997 and 2000, by several professors from the University of La Laguna. The famous Drago Milenario is one of the most important natural, cultural and historical symbols of the Canary Islands and, therefore, a must during your visit to Tenerife. In 1917 it was declared a National Monument and its image has appeared in stamps, pictorial works and even in banknotes. In the surroundings of the tree a garden of endemisms has been created with great didactic and illustrative value for all those who come to contemplate it.
Visiting hours:
Months from April to September: 09:00h. to 20:00h.
Rest of the year: 10:00h. to 18:00h.
Price rate: adults 5 €, students and pensioners 3 €, children under 8 years 2.50 €.
How to get there: Location
After a long day strolling through Tenerife's most emblematic gardens and parks, nothing like arriving at your accommodation in Hotel Suite Villa María to make you feel at home. Enjoy the landscaped areas of our villas where you can sunbathe and if you need an extra push to return to serenity, don't hesitate to visit NAIAD, our recently opened wellness centre. Don't hesitate to contact our team for more information!
Categories: Descubre Tenerife
« NAIAD WELLNESS CENTRE OPENS IN HOTEL SUITE VILLA MARIA
Hotel Suite Villa María: the way to sustainability »