Golf for beginners in Tenerife

All the golf enthusiasts that arrive year-by-year to Hotel Suite Villa María are conscious that this activity is not simply a sport, it is an authentic way of life. From the privileged location in which our villas are located, surrounded by the 9-hole course Los Lagos and just a few minutes away from Golf Costa Adeje (18-hole course), holidays in our hotel are the perfect excuse to start playing this game.
Golf is the ideal sport for those who enjoy taking care of details and who consider technique more important than the competition. Just like good art, golf has unwritten codes that go far beyond the rules, for example the cordiality between opponents, keeping silence during the game, not giving advice to the ones who don't ask for it and, of course, the clothing.
In any case, even though your polo shirt and your trousers will make you look like a professional in your Instagram photos, before you try golf is very important to get used to the terminology. Following these beginner instructions, we will go over everything that you need to know in order to learn how to play golf.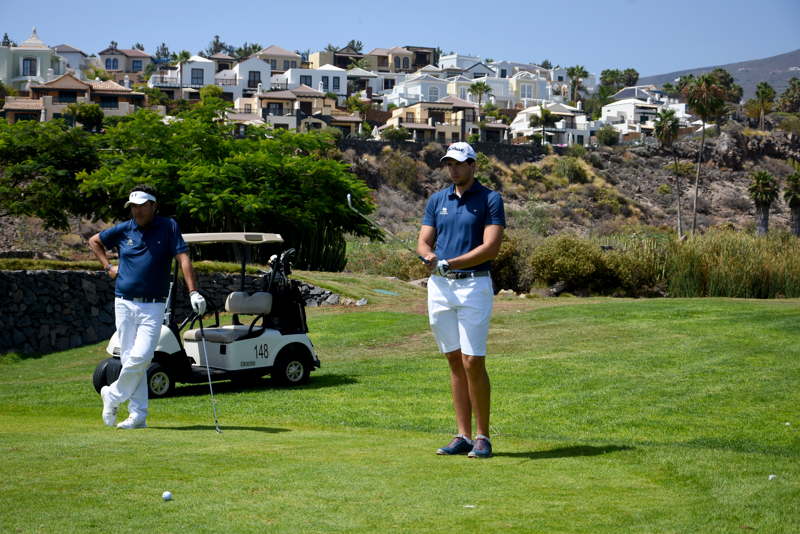 Rushing is not for golfers
It is a sport that requires concentration and a lot of psychology, therefore we recommend that you enjoy your golf lessons with your mobile phone switched off and enjoy the surrounding environment around you. Do not improvise your sessions and reserve the perfect moment of the day where you feel relaxed, and can focus all of your efforts on learning the techniques and get the best out of yourself.
First steps
The beginnings are never easy, and in golf, it was not going to be different. Before trying the 18 hole golf course, it is advisable to first go to the driving range in order to perfect your swing movements and simply practice your strokes, repeat them and quickly progress. Ideally having unlimited balls so that you can practice hitting the golf balls as many times as you need. Just a few meters away from Hotel Suite Villa Maria one finds Golf Costa Adeje's  driving range that has 45,000 square meters and is nestled in an extraordinary natural setting with three levels of output at different heights. It also has a practice bunker, 2 putting greens and chipping greens in order to practice all your strokes.
Get to know the golf course
Getting to know the golf course and its dimensions is vital in order to play your best possible game on the golf course: it helps you to be aware of the available playing areas and, of course, to measure your first swings. It is understandable that at the beginning you won't feel 100% capable of facing an 18-hole golf course, therefore we highly recommend that you choose Los Lagos being a 9 hole golf course during your stay with us at Hotel Suite Villa María, that by the way all our guests have direct access to. Its 9 holes are ideal for you to practice your movements in a calm environment and allow you to gradually improve your game.
Choose your golf clubs and equipment carefully
We do not suggest that you initially invest too much in your golf clubs and equipment at the beginning, only until you know that you have truly fallen in love with this game. You can buy a couple of clubs (a wood and an iron), various types of balls, golfing shoes especially for the golf course and, of course, a good pair of sunglasses so that you can see the distance and the ball's direction. Over time you may be interested in technological gadgets such as GPS clocks or distance meters, but you will discover it for yourself as your immersion in the world of golf advances.
Learn the key terms
Caddy, Greenkeeper, Draw, Fade, Handicap… are just some of the terms that you will acquire. The golfing vocabulary is vary varied, but once you acquire the main terms, you will be able to understand the game and even be able to talk to your fellow players using the appropriate jargon.
Follow your golfing idols and golf tournaments
The Augusta Masters, the US Open, the British Open or the prestigious Ryder Cup biennial tournament, are some examples. There is nothing like learning from the Professionals to improve your technique and, of course, to keep up with the conversations within the course. Many of the most famous professionals also share their activities in their social media networks, so it is convenient that you follow them to get to know about their life up close and personal. We encourage you to follow the golfer's day to day  in order to completely falling in love with this sport.
« Tips to organize your event in Tenerife
Discovering the new concept of our Restaurant La Torre »