Wild Teno
The majority of the visitors that stay at Hotel Suite Villa Maria usually come looking for the serenity of mild temperatures and the friendly way of life of its residents. It's true that there's nothing like a holidays in our exclusive villas to run away from the office stress, but we would like to offer all of you an alternative plan to test our guests' most adventurous side.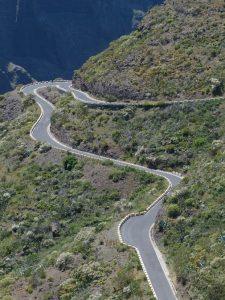 If you have had the chance of discovering Tenerife's geography, you will have realised that the island has multitude landscapes and contrasts concentrated in small spaces. One of the most unusual landscapes that you will find is the idyllic Country Park of Teno, located northwest of the island.
There, where the island ends and where the people of Tenerife have ever admired the Atlantic Ocean in all its glory, one will find more than 8.000 hectares of pure nature.
We will arrive to this place through one of the most complicated roads of the island, not suitable for those who suffer vertigo. An uneven landscape, full of valleys, Laurisilva forests and some of the traditional houses that will join you during this journey until the famous Punta de Teno.
Punta de Teno
Despite the fact that anyone can completely lose themselves discovering this area of the island, the most typical postcard is located on the coastline, near the well-known lighthouse that leads Punta de Teno. From there, we recommend that you follow a long wooden path that will take you to the edge, where you will be able to admire the intensity of the bluest sea that you have ever seen.
Teno's small beach would be the typical option for all those who want jump into the sea, but we invite you to do so, just as the locals do and dare you to throw yourself from the tiny dock where the wooden path ends. It's the best way to admire the impressive wall that takes down to the abyss and to make you feel as if you were swimming at the middle of the ocean.  It is a remarkable experience!
Sport activities
In this area you will also be able to admire Los Gigantes, the famous cliffs and, if you wish to do so, you can also enjoy sport activities available in the area. Companies such as Teno Activo that carry out kayak excursions in front of the coast, and other unbelievable choices like scuba-diving or cetacean sighting.
On the other hand, if you prefer the mountains, we encourage you to go to one of the numerous available excursions to get to know the relief of the area. Volcanism and sea in its purest state, protected species and a world of unique flora. A fantastic opportunity to immerse yourself in one of the wildest places of the island and to engage in unity with nature.
Categories: Descubre Tenerife
« Shopping in Costa Adeje
Marilyn's Closet and her family discover Hotel Suite Villa María »