Advantages of staying in a villa

There are those who prefer urban holidays, there are also people who search for adventures, backpacker style, while others choose to enjoy their free days in nature. The truth is that, nowadays, holiday plans are as diverse as one wants to imagine. Precisely, if there is something that embodies the island of Tenerife, it is the many possibilities and experiences offered, from walks through colonial history to interesting plans that combine mountains and beaches.
The importance of feeling comfortable in these desired days of disconnection is crucial to be enjoyed, whether you prefer active vacations or if you choose not to leave the sunbed for a week. If you are thinking of coming to Tenerife and you are still planning your trip, from Hotel Suite Villa María we invite you to get to know all the advantages of staying in one of our spacious villas:
Feeling at home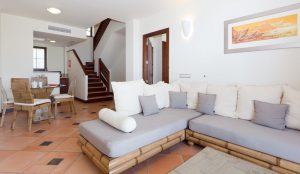 We always look forward to starting our holidays, however, once we are away for a few days, it is very common to think that there's nothing like feeling at home. This is one of the points that is mostly appreciate by our guests, whose intention is to spend their time in a place that offers all the comforts of their own home. Enjoyment without a timetable, with all the services at your fingertips and freeing yourself from the obligations of your daily life is a luxury that you can only live in our exclusive villas.
High category services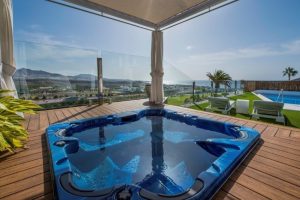 Imagine being able to have your own villa with a private pool and enjoy the first splashes with the youngsters of the family. This heart-warming scene is possible in our 3-bedroom villas or in the spectacular Bellavista Villa, which also has a larger solarium garden where you can relax with your loved ones, in an atmosphere where privacy is more than guaranteed. If you prefer your own Jacuzzi and, for example, spend eternal nights that combine bubbles and the infinity of stars, we also have one and two bedroom options with their own Jacuzzi and many more facilities worthy of a 5 star establishment, all available and found at Hotel Suite Villa María.
Family leisure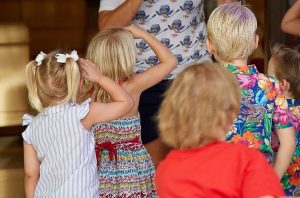 If something stands out at our hotel, it is the outstanding family atmosphere. Everyone knows that children need space for all the energy that they give off during the holidays, always in a safe environment adapted to their needs. Those families who come to our hotel with babies, also appreciate having a cot in their bedroom, as well as an available kitchen in their villa, perfect for heating baby bottles or preparing the lunches and snacks required by the youngest ones. Likewise, in the common areas around the hotel we also have ideal spaces for children, where they can make new friends and have a great time participating in the kid's activities that we offer.
Tailor-made holidays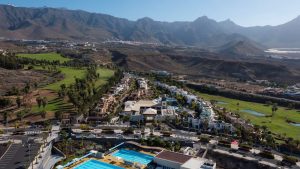 When you decide to spend your holidays in a villa in Tenerife, a universe of holiday plans is at your disposal. Whether you like the beach or the mountains, the endless golf rounds, shopping or historical walks, you should know that the island is a place that combines volcanic essence, Atlantic influence, sports leisure, legends in each one of its spaces and plans adapted to all tastes. Reserving a villa doesn't necessarily mean always staying in the hotel… on the contrary, it gives you the freedom to choose your plans suited with your lifestyle, with all the necessary comforts available, allowing you not to worry about anything.
Intimate setting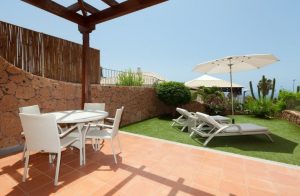 Whether you come to spend your holidays as a couple or with your family, the intimacy that is breathed in our villas will make you forget that you are in a hotel. If your cherish your privacy during your holidays, you will be delighted with the excellent location that our villas offer, views over the sea, the mountains and Los Lagos Golf Course, surround Hotel Suite Villa María. You will never have the impression of being in a crowded and stressful place, on the contrary, you will hardly notice the presence of other guests thanks to the quiet ambience that we have in the villas. Perfect for the most relaxing moments.
Villa reservations, directly on our website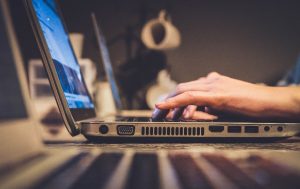 If there is something that we can thank the new technologies, that would be the benefits of carrying out reservations. Choosing the villa that best suits your needs, making the necessary requests for your stay, receiving the most personalized attention and booking in the fastest and most effective way are just some of the options offered by our direct sales service. You will be able to access the data of your reservation whenever you want, through the reservation code and, of course, obtain the most competitive price in the market.
Categories: hotel
« The most charming townships in Tenerife
Tips to organize your event in Tenerife »