NAIAD WELLNESS CENTRE OPENS IN HOTEL SUITE VILLA MARIA

Within Hotel Suite Villa María, NAIAD has been created as a Wellness Centre designed to achieve the perfect harmony between relaxation of body and mind, very different to the wide and impersonal spaces that other spas usually offer their visitors.
We are convinced that it was necessary to create an area for those looking for a close and personal treatment. NAIAD offers facilities designed to enjoy a time of maximum relaxation in a space provided with great privacy. In this way, our Wellness Centre wants to bring you closer to avant-garde treatments for personal care and a hydrothermal circuit with different seasons that manage to help one leave behind problems, stress and routine.
What will you find in our Wellness Centre?
NAIAD offers you the possibility of enjoying a circuit with steam bath, whirlpool bath, showers with essences and a sauna. We believe that this is the best way to stimulate the activation of vital functions thanks to the different water temperatures, steam and the extra help of the essences used.
Following, we propose that you to allow the hands of our expert and qualified professional team take care of you, by choosing one of the different varieties of massages that we offer both to be enjoyed individually and as a couple. A gratifying and romantic experience if you wish to share it.
Who can visit NAIAD?
Our Wellness Centre is open to the general public. Whether you have decided to stay in one of our comfortable and modern villas at Hotel Suite Villa María, or if you are visiting Tenerife South or even if you are a Resident of the Island, we would be delighted to welcome you to NAIAD. You can visit our facilities any day from Tuesday to Sunday from 10:00 to 18:00 hours. If you have any questions or would like to book any of our treatments, please do not hesitate to contact our team.
Why NAIAD?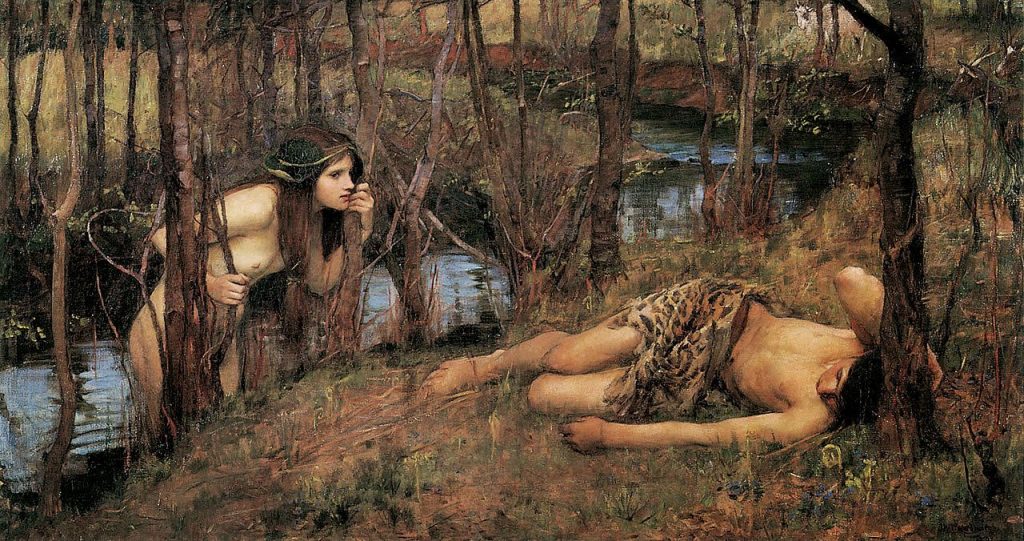 Artist: John William Waterhouse (1849 – 1917)
Art Style: Victorian Art
Artwork: The Naiad (1893) ('La Náyade' or 'Hilas con una ninfa')
Technique: oil painting
NAIAD (naiad) comes from Naiades which, in Greek mythology, were the nymphs of freshwater bodies – springs, wells, springs, streams and brooks – and embodied the divinity of the watercourse they inhabited. The aquatic nymph associated with a particular source was known throughout Europe, in places not directly related to Greece, surviving in the Celtic wells of north western Europe, and in the Middle Ages. It is said that the Naiads were and are very beautiful.
All famous springs and fountains have their náyade or group of náyades, usually considered as sisters. They were often worshipped as essential for fertility and human life. Naiads were often attributed with healing virtues: the sick drank the water with which they were associated or, more rarely, bathed in them.
Captivated by this story, at the Hotel Suite Villa Maria we have decided that nymphs should protect the well-being of our guests. We want the care and personalized attention that is reflected in the day-to-day life of our hotel to be felt it every inch of your skin. So, NAIAD settles in our facilities so that your well-being is a priority.
Categories: hotel, Novedades Villa María
« A walk through the best markets of Tenerife
The best parks and gardens of Tenerife »